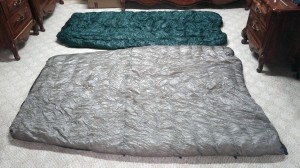 I was super excited to get my hands on my new deep winter quilt set today – Green HG Incubator 0° (26.5 oz w/ stuff sack) and a wide Titanium HG Burrow 0° (25.75 oz w/ stuff sack). I couldn't resist running contrary to general consensus, so yes, I went with snaps instead of a sewn foot box on my wide Burrow. I've grown to really love the snaps on my Burrow 40° and also anticipate using my Zero in situations that it may be overkill – since my other bag is a 40, waaay at the other end of the spectrum.
Fully aware that my 40° Burrow had a bit of a gap in the foot box area when cinched, I took a bit of a gamble and expected that the Burrow 0° would have an even smaller gap, due to the increased volume of down. If I was wrong, I could simply plug it up with my stuff sack on colder nights, but as you can see in the side-by-side picture below, there's virtually no gap present on the Burrow 0°. Nice.
Just to continue the theme of keeping things interesting, I also plan to test the Hammock Gear Burrow 0° on the ground with a sleeping pad, during an upcoming snowshoeing trip in the White Mountains of New Hampshire. Hopefully, we'll get some brutal temps up there, so I can share the results in my next video. I can't wait!
I plan to use the weight savings to bring along my wife's gi-normous Big Agnes Q-Core SL wide sleeping pad to test it with. Paired up with the wide Burrow, I'm hoping to be sleeping about as classy as one can on the ground. Heck, even if I brought an additional fleece throw as a top sheet, the total weight for all three would still be a couple ounces less that my previous bag alone (Kelty Cosmic Zero, 4lbs!).
Of course, after ground testing, I'll be have to take it out for a solo trip somewhere frosty to run the whole rig on my hammock, it's true home.
For more detailed info and a look at other models and options, check out http://www.hammockgear.com/  A quality cottage vendor based right here in the USA.