Come along for 3 days of ultralight backpacking and fall camping in West Virginia's Cranberry Wilderness.
For this adventure, I'll be taking my newly refined ultralight backpacking loadout for a three day overnight hiking and camping trip in West Virginia's Cranberry Wilderness.  After my last couple of vista-packed trips, I've had some requests for more footage & discussion once we get to camp – site selection, shelter setup, fire making, cooking, etc.  Well, this video has plenty of all that, and then some.  In fact, this ended up being my longest feature length video so far.
For those of you looking for something a little lighter, there's a full back catalog of shorter videos that might hit the spot, but if you're ready to get into the finer details of ultralight backpacking gear and spending time outdoors (from my own warped perspective of course), then this is the video for you.  A little gift for the hardcore fans 😉
Parking: North South Trailhead on State Route 150
38.276530, -80.237829
Trails Used Day 1
Start at North South Trail Head on West Virginia SR 150
TR 688 North South Trail
TR 267 Laurelly Branch Trail
TR 271 Middle Fork Trail
Setup Camp on Hell for Certain Branch
This is a large campsite across from trail on opposite side of the Middle Fork River with plenty of fresh water available from the nearby river.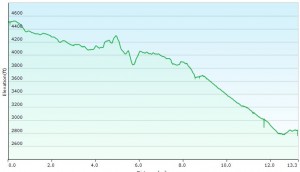 Day 1 Total Mileage: 13.2 miles
Day 1 Gross Ascent: 1,102′
Trails Used Day 2
Backtrack on TR 271 Middle Fork Trail towards junction from previous day
Continue on TR 271 Middle Fork Trail
TR 207 Big Beechy Trail
Setup Camp just after summit of Sugar Creek Mountain.
This is a medium-small Campsite, in a beautiful mossy area.  Make sure to pack in enough water, as there are no nearby sources.  The elevation was around 4,400 feet and the landscape was somewhat conducive to wind, so be prepared for temps that are possibly quite a bit lower than locally forecasted.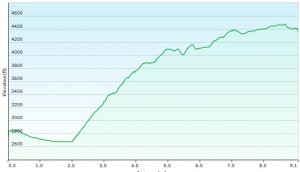 Day 2 Total Mileage: 9.06 miles
Day 2 Gross Ascent: 2,405′
Trails Used Day 3
Continue on TR 207 Big Beechy Trail
TR 272 North Fork Trail
TR 688 North South Trail towards SR 150
Return to North South Trailhead Parking Lot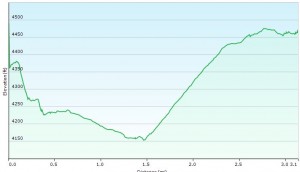 Day 3 Total Mileage: 3.17 miles
Day 3 Gross Ascent: 367′
Total Mileage for Trip: 25.39 miles
Total Gross Ascent for Trip: 3,974′
Click Here to Download a PDF Copy of the Gear List used for this Trip
or visit the Gear Lists Page for detailed notes and weights for each item.
Notable Pieces of Gear seen in this Video:
Dream Hammock Darien Hammock
with cinch buck suspension and Dutch Clips
Hammock Gear Cuben Hex Tarp 12'x8.5′
Zing-It Guy lines with Dutch Wasps for tensioning
Osprey Hornet 46 Backpack
Hammock Gear Burrow 40 Top Quilt
Hammock Gear Incubator 40 Underquilt
Frogg Toggs Rain Jacket

Esbit Solid Fuel Cubes

Toaks 750ml Titanium Pot with lid

Vargo Windscreen / Pot stand

Sawyer Mini Water Filter

Montbell UL Parka – 850 fp down
Adidas Terrex Swift-R
trail runners