Ok, so I'm fresh the whole "blog" thing, but I'm guessing this is how it works:  I do something mundane, like buying new shoes, and then I write about in spectacular fashion. Right?  Excellent.  I have a sneaking suspicion that being self important is going to be fun!
So… I've been researching and contemplating putting my little mitts on some new hiking boots for a bit now.  Specifically some boots of the winter kind.  At first I was even looking at the new for 2012, Vasque Snow Junkies that recently got backpacker Magazines Editor's Choice Snow Award.  Not only do they look really sharp, but they were designed with the weight conscious hiker in mind.  You know that got my attention. They also get a lot of attention for their temperature versatility.  Loaded with 200 grams of Thinsulate and highly breathable, they're touted as a great choice for those times when things could be either cool and muddy or downright snowy.
They also were mid-cut instead of high-cut.  This initially stopped me in my tracks.  I mean, I love mid-cut boots. In fact, I rarely have bought or used high cut boots, but my original goal for a winter boot was to find a warm, water-proof boot that was cut high enough to keep out snow during that unexpected shin-high post-hole.  Enthralled by the charming good looks of the Snow Junkie (can a self respecting man be attracted to a boot?), I convinced myself that mid-cut wasn't a factor.  And so my Snow Junkie research continued. But I kept coming back to a key design point of the Junkie: It's meant for movement. High level activity.  "Not a problem", I thought.  I do some decent miles, so this should be right up my alley.  Only 200 grams of Thinsulate?  No biggie, I'm an 'active' hiker.  Hey, they're cutting edge and they look bad-ass, ok?  This isn't denial.  These are the right boots for me. Right?
Finally, I found a video on YouTube, about said boots, in which an actual Vasque rep was being interviewed at a trade show.  Perfect.  He hit all the aforementioned points, and mentioned the design target of high activity.  Will they keep you warm on the trail?  "Absolutely, as long as you're moving, yes."  Some more questions, and then the subject of warmth comes up again.  And once more, he makes a point to strongly emphasize that these boots will keep you warm as long as your moving.   Ok, maybe it's time to finally pay attention.  Will I really be doing the same volume of miles in the winter, or better yet snowshoeing?  My ego would love to say yes, but reality begs a different tone.  Chances are, my snow outings will be less mile intensive and involve more time preparing, building, and putzing about camp.
So back to square one.  You see, prior to the obsession with Vasque's Junkies, I had been researching another winter boot made by Northern Italy based boot maker, Garmont.  I already own a pair of Garmont Zenith Mid GTX's as my warm to cool weather hiking boot and love them.  They are comfortable, super "grippy", and haven't shown any signs of falling apart after many miles of varied terrain.  Now, I'm not one to worry about brand allegiance, but if my summer boots fit well, I should at least find out if they happen to make a decent winter boot too.  And as it turns out, they've got a pretty well received high-cut snow boot called the Momentum Snow GTX.
The Momentum Snow GTX doubles the Snow Junkie's insulation, clocking 400 grams of Thinsulate with a high cut profile.  Obviously, the Momentums weigh more than the Junkies (their web site claims 18.5oz each) , but not as much as you might think.  My size 10.5 Momentum's weighed in at 21oz each (2.6 pounds per pair).  By comparison, my summer Gamont Zenith Mids weigh in at 22oz each.  Crazy right?
And the kicker: The Momentum Snow's claim to be rated down to -35 degrees.  Yeah, I know.  I don't believe it either.  Maybe knock off the standard 10 degrees of BS, then I'll guess that they mean that they'll be good to -25 degrees so long as you're running or something. But that's fine with me.  Even if they only realistically deliver -5 degrees standing still, that should be fine for my application.  Besides, I wouldn't mind being able to use them at moderate temps when my main concern is cold water and mud.  Something that my highly breathable Garmont Zenith's succumb to rather easily (reference: my Wild River Wilderness Video).  They also boast some hiker-specific bonuses: a D-ring for attaching your Gaiters, as well as a sleek lacing system and boot shape, designed to easily interface with snowshoes.  As a owner of Kahtoola Microspikes, I'm also happy to see reports that they work well with those as well.  Even without the spikes, I should probably point out that these boots have some very aggressive traction, referred to as "X-Double Density Lugs" on Garmont's spec-sheet.  Admittedly, I don't exactly know what the hell that means, but they certainly look like they'll maintain a solid purchase on ice, mud, or exposed rock-face.  And you're hiking partner (or hopefully not, rescue party?) will appreciate this: they've got some massively light reflective accents on them for night-time visibility.  Winter prison escapees should probably keep looking if they're in need of a new boot.
So my mind was made up: Garmont Momentum Snow's it would be.  And this weekend they went on sale at a local retailer for around $100 bucks, so now they're on my feet.  Score.  I managed to lightly test them out with about a mile walk this afternoon, and so far they feel good.  The temp was in the low 40's, no challenge there, but they didn't overheat too badly either, so that's a plus.  This weekend I'll  probably give them a run during deer season, which should be a good test of how they fair under low movement situations in moderately cold temps.  And of course, I'll have to give them a run in a future video for some snow hiking or maybe even snowshoeing.   Any suggestions out there for some decent mid to North Atlantic snow hikes?  Updates to follow…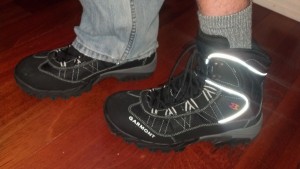 Yes, they glow. … A lot.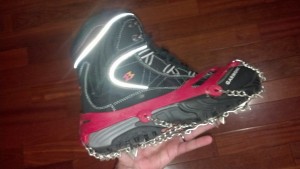 Rigged with Microspikes.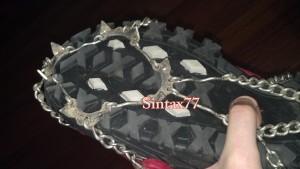 A view of the bottom tread "Lugs" along with added Microspikes.